Gula Båten - Water taxi and boat tours
Address: Byholmen 44, Löparö
Show map
Address: Byholmen 44, Löparö

Gula Båten offers water taxi services, transport and tours in the northern part of the Stockholm archipelago. We do tours to Ängsö national park, but you can also charter a water taxi for bathing, kayaking, diving or fishing trips as well as corporate events.
We operate in the waters around Vettershaga - Furusund - Husarö Finnhamn - Siaröfortet and all the way out to the outer archipelage and the island of Rödlöga if you so wish.

Our boat is a 30 feet Arronet, built 2021 in Öregrund. It is extremely seaworthy and comfortable thanks to a unique rubber-suspended cabin. Safety equipment and life jackets for all. Takes up to nine passengers.

The price is about 1,500 per running hour and half for waiting and loading/packing.

Take a trip to the magical national park of Ängsö from for example Furusund. Special arrangements can be made for groups.
Visit Siaröfortet or call us for ideas of islands to visit or secluded bathing spots.
Take a packed lunch and let us take you to the outer archipelago with its landscape of sea, skerries and seabirds! Load your kayaks and tents onto the boat and I will take out out and collect you at an agreed date. Or let us take you to one of the lovely restaurants and cafés in the area.
Show more
Guest house
Distance: 7.9 km
The Russians will get no further than this! That was the thinking when Siaröfortet was built after the First World War. These days the fort is its own island offering wonderful experiences and relaxation.
Hotel
Distance: 12.3 km
Furusunds värdshus is a restaurant, hotel and conference facility that offers a warm and cozy environment. The inn is situated 30m from Furusundsleden with a breathtaking view.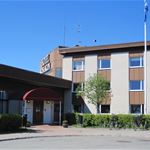 Hotel
Distance: 16.1 km
Hotell Roslagen is situated in a green area by the south entrance of Norrtälje with 20 minutes at the most to walk downtown. The hotel consists of 52 rooms in three stories with two elevators.