Norrtelje Brenneri
Address: Lohärads Söderby 11, 761 72 Norrtälje
Show map
Address: Lohärads Söderby 11, 761 72 Norrtälje

Roslagen's own distillery resides since 2002 in a barn dating back to 1904. Established by husband and wife Richard Jansson and Kristina Anerfält-Jansson, in the heart of Roslagen, ten kilometers north of Norrtälje. We organize everything from guided tours, tasting sessions, parties and weddings to smaller fairs, company events, music nights and dramatic theatre performances.
Norrtelje Brenneri AB was founded in 2001 and is located in Lohärads Söderby. For five generations the family has farmed the land, and after extensive renovation and rebuilding of the red barn the distillery was ready for use in 2002.

The copper stills – where the magic happens
The two steam-heated copper stills from Carl GmbH, Germany, a world-leading manufacturer of copper distillation plants, takes 150 and 450 liters respectively.
The mash is undergoing an initial distillation and, after that, a second, very careful fine distillation. A-class water is sourced from the farm's own well.

Organic raw materials makes price-winning drinks
First-class spirits are made from fruit and berries, such as apples, pears, rowanberries and sea buckthorn berries. Not only are the raw materials organic, but also to a large extent locally produced, many of them grown on the farm's own land. The product range includes Roslagswhisky, RoslagsGin, Roslags Apple Liquor, RoslagsPunsch as well as the traditional BellmanPunsch.
Show more
Hostel
Distance: 8.9 km
Homely and centrally located in the capital of Roslagen, Norrtälje. Open all year round. Reception April-September 7.30-11.00, 17.00-19.00. In other months, by prior arrangement.
Hotel
Distance: 9.5 km
This wooden hotel in Norrtalje was inspired by the houses owned by 19th century wealthy merchants. The thought was to recreate the character of that time in our hotel. A wealthy coastal town, built and decorated with wood, with places for both small and lar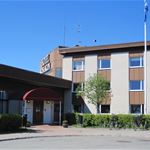 Hotel
Distance: 9.5 km
Hotell Roslagen is situated in a green area by the south entrance of Norrtälje with 20 minutes at the most to walk downtown. The hotel consists of 52 rooms in three stories with two elevators.