s/s Norrtelje – our own unique cultural treasure
Address: Hamnpromenaden 2, 76133
Show map
Address: Hamnpromenaden 2, 76133

s/s Norrtelje was named after her homeport Norrtelje during the early 1990s. Already in the late 1800s the engineers H.A Bertheas and Ernst Hernberg started to develop the idea and design this ship that quickly got the well-deserved name as "Archipelago fleet Queens" - a ship as good in the sea as she is beautiful.
A work of art with graceful lines and a solid machine that became to represent a highlight in the art of shipbuilding. It's not hard to understand why so many feel a pride towards the preservation of s/s Norrtelje, our own unique cultural treasure.

s/s Norrtelje was built in 1900 for 225 000 SEK at William Lindbergs workshop and Varfvs AB, southern wharf in Stockholm and she was considered being the highlight of what could be achieved within shipbuilding. The interaction between hull, machinery and the propeller was perfect.

The first time s/s Norrtelje landed in her homeport Norrtelje was 12th of June 1900. She was first in traffic between Stockholm-Furusund-Norrtälje but during the summer 1950 she had her last traffic between Stockholm and the northern archipelago. Instead she turned to other routes, including "the Ålands boat" with daily trips between Norrtälje and Mariehem, Åland.

In the 60s s/s Norrtelje were rescued from being scrapped from a bailout that later became a foundation that today owns and manages the boat. Today she is no longer in traffic instead she is used as a museum and a reminder of how important the steam-powered ferries was in the beginning of last century.
Show more
About this activity
Contact person email
Website
Hotel
Distance: 93 meters
This wooden hotel in Norrtalje was inspired by the houses owned by 19th century wealthy merchants. The thought was to recreate the character of that time in our hotel. A wealthy coastal town, built and decorated with wood, with places for both small and lar
Hostel
Distance: 1.2 km
Homely and centrally located in the capital of Roslagen, Norrtälje. Open all year round. Reception April-September 7.30-11.00, 17.00-19.00. In other months, by prior arrangement.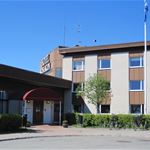 Hotel
Distance: 1.8 km
Hotell Roslagen is situated in a green area by the south entrance of Norrtälje with 20 minutes at the most to walk downtown. The hotel consists of 52 rooms in three stories with two elevators.