Frötuna church
Address: Rösavägen 29, 761 97 Frötuna kyrka
Show map
Address: Rösavägen 29, 761 97 Frötuna kyrka

There is no doubt that aesirgod Frö has been worshiped on this ground. Therefor it was natural to build a christian Church here. The one you can see today is from the beginning of the 1500th Century but the oldest parts are from 1200th Century. Saint Olof became protector of this church and a copy of the original sculpture of him can nowadays be seen at museum of History in Stockholm. Paintings inside the church has never been found but instead there are many carvings from the middle ages. The altar piece is also from that timeline. Under the vault you can find Sten Stures coat of arms.
Show more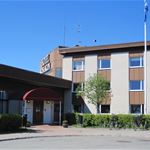 Hotel
Distance: 864 meters
Hotell Roslagen is situated in a green area by the south entrance of Norrtälje with 20 minutes at the most to walk downtown. The hotel consists of 52 rooms in three stories with two elevators.
Hostel
Distance: 1.7 km
Homely and centrally located in the capital of Roslagen, Norrtälje. Open all year round. Reception April-September 7.30-11.00, 17.00-19.00. In other months, by prior arrangement.
Hotel
Distance: 2.6 km
This wooden hotel in Norrtalje was inspired by the houses owned by 19th century wealthy merchants. The thought was to recreate the character of that time in our hotel. A wealthy coastal town, built and decorated with wood, with places for both small and lar