Norrtälje Handelsstad
Address: 761 61 Norrtälje
Show map
Address: 761 61 Norrtälje

Norrtälje Handelsstad is an association for trade and business in Norrtälje aiming to support and promote sound trade development and the common interests of its members.
We provide consultative advice and serve as a link between the traders, the municipality, the tourist sector, culture and leasure providers and property owners. The association also has some important partners, of which the local paper Norrtelje Tidning is one of the major ones. Norrtälje Handelsstad arranges and partners up with others to arrange events in and around Norrtälje aming to attract visitors.

Norrtälje Handelsstad supports a living and attractive town center, active cooperation between member organisations and the municipality and Norrtälje as an attractive destination. Strategically located near Stockholm, by the water and close to the archipelago, Norrtälje has a great potential for developing into one of the most attractive towns in the Stockholm area.

Vision
Norrtälje aims to offer inhabitants and visitors alike the best of housing, shops, meeting places, culture and leisure in a unique environment.
* We work to create a trading town with an extensive offer of goods, services and meeting places.
* The goal is a place where everyone can thrive and enjoy each other's company.
* We aim for different businesses to complement each other.
* "Together we are strong" - community, commitment and drive will make it come true!
Show more
Hotel
Distance: 259 meters
This wooden hotel in Norrtalje was inspired by the houses owned by 19th century wealthy merchants. The thought was to recreate the character of that time in our hotel. A wealthy coastal town, built and decorated with wood, with places for both small and lar
Hostel
Distance: 835 meters
Homely and centrally located in the capital of Roslagen, Norrtälje. Open all year round. Reception April-September 7.30-11.00, 17.00-19.00. In other months, by prior arrangement.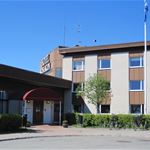 Hotel
Distance: 1.5 km
Hotell Roslagen is situated in a green area by the south entrance of Norrtälje with 20 minutes at the most to walk downtown. The hotel consists of 52 rooms in three stories with two elevators.