Pythagoras Industrial Museum
Address: Verkstadsgatan 6, 761 43 Norrtälje
Date: Friday 23 jul 2021 - Sunday 15 Aug 2021
Show map
Address: Verkstadsgatan 6, 761 43 Norrtälje

High up on the hill Södra berget in Norrtälje you will find an interesting piece of history – the old factory Pythagoras, now a museum. Once hot bulb engines were manufactured here and sold to every corner of the world.
The whole family will enjoy this!

Still today, the factory is in more or less original shape and is kept open for visitors as a living museum telling the stories about people and their machines, about the world as it was in the early 20th century. When you step into the workshop you take a step back into the past.

Here is food for all the senses. You can also step into the old factory office and visit the worker's home with its small kitchen garden. Temporary exhibitions provide further background information about the history of the hot bulb factory. On a guided tour you can still smell the engine oil and get the feeling of what it was like to live and work in a factory. You can experience a hot bulb engine running and listen to the lathes and mills as the are driven by transmission belts up in the ceiling. You may also walk around the museum in your own pace and listen to an audio guide.

Our museum is not only for adults. We have a children's area where children can learn about inventions and mechanical principles through play. They can put on small working smocks and stamp their cards in a time clock like the workers of old. The backyard has room for more vigorous play.

The old forge is today a charming café - a place to enjoy the atmosphere with a nice cup of coffee, have a light meal or take a look at the souvenir shop.
Show more
Date

Time

Thursday 5 aug 2021
12:00

- 16:00

Friday 6 aug 2021
12:00

- 16:00

Saturday 7 aug 2021
12:00

- 16:00

Sunday 8 aug 2021
12:00

- 16:00

Tuesday 10 aug 2021
12:00

- 16:00

Wednesday 11 aug 2021
12:00

- 16:00

Thursday 12 aug 2021
12:00

- 16:00

Friday 13 aug 2021
12:00

- 16:00

Saturday 14 aug 2021
12:00

- 16:00

Sunday 15 aug 2021
12:00

- 16:00
Hotel
Distance: 543 meters
This wooden hotel in Norrtalje was inspired by the houses owned by 19th century wealthy merchants. The thought was to recreate the character of that time in our hotel. A wealthy coastal town, built and decorated with wood, with places for both small and lar
Hostel
Distance: 585 meters
Homely and centrally located in the capital of Roslagen, Norrtälje. Open all year round. Reception April-September 7.30-11.00, 17.00-19.00. In other months, by prior arrangement.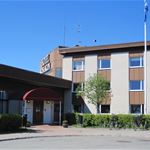 Hotel
Distance: 1.2 km
Hotell Roslagen is situated in a green area by the south entrance of Norrtälje with 20 minutes at the most to walk downtown. The hotel consists of 52 rooms in three stories with two elevators.