Grannköket Catering, Norrtälje
Address: 761 50Norrtälje Estunavägen 14, Restaurang Köket
Show map
Address: 761 50Norrtälje Estunavägen 14, Restaurang Köket

Weddings, christenings, anniversaries, graduation parties, memorial services - food for all life's events.
Grannköket catering has been operating in the Roslagen area for 10 years, and can by now rightly call themselves "a nice bite of Roslagen providing food and refreshments for all kinds of occasions from their base in central Norrtälje.

The company was founded in 1997 by Sandra Grann, with more than 20 years' experience from the restaurant business, and is today run by her and her husband Pelle.

Parts of the staff has been working with Sandra from before she started Grannköket and has been part of this journey. Whatever food you choose to order, you will always have a lovely culinary experience. Don't hesitate to contact Grannköket for a culinary consultation.
Show more
Hostel
Distance: 825 meters
Homely and centrally located in the capital of Roslagen, Norrtälje. Open all year round. Reception April-September 7.30-11.00, 17.00-19.00. In other months, by prior arrangement.
Hotel
Distance: 1 km
This wooden hotel in Norrtalje was inspired by the houses owned by 19th century wealthy merchants. The thought was to recreate the character of that time in our hotel. A wealthy coastal town, built and decorated with wood, with places for both small and lar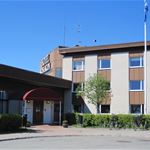 Hotel
Distance: 1.8 km
Hotell Roslagen is situated in a green area by the south entrance of Norrtälje with 20 minutes at the most to walk downtown. The hotel consists of 52 rooms in three stories with two elevators.