Map of the hiking trail Roslagsleden
Adresse: Lilla Brogatan 3B, 76130 Norrtälje
Karte anzeigen
Adresse: Lilla Brogatan 3B, 76130 Norrtälje

Discover Roslagen's unique natural and cultural delights along the new Roslagsleden trail between Danderyd and Grisslehamn on the Sea of Åland.

The trail offers almost 190 km of hiking past ancient settlements dotted with runestones, through pristine forests with crystal clear lakes, across fields of cows and sheep, past historical sites with churches and castles, through protected countryside with rare flora and fauna and along a coastline of rocks, shingle, sand and an endlessly beautiful sea.
Hiking guide and inspiration
In this hiking guide, we have split the Roslagsleden trail into 11 sections, each suitable for a day's hike. The shortest is 9 km long, the longest 25 km. Assume a normal walking pace of 5 km per hour. Of course, if you stop off along the way to enjoy the sights, it may take a little more time.

The guide is accompanied by a map to a scale of
1:50 000. Both map and broschure can be bought at the Tourism Information Centres in Roslagen area.

All the way along Roslagsleden there are plenty of places to stay overnight – everything from simple shelters to youth hostels. There are also campsites, B&Bs, cottages and hotels.

The trail is marked by a band of orange painted on the trees. Occasionally signposts also guide the way and give distances. You'll find an information board at the start and end of every section.

Roslagsleden is part of the European long distance path E6, which starts in Greece and ends in Kilpisjärvi in northern Finland. Roslagsleden runs through the municipalities of Danderyd, Sollentuna, Täby, Vallentuna, Österåker and Norrtälje, which are also responsible for the upkeep of the trail.

Roslagsleden starts in Danderyd and used to end in Norrtälje. Now the trail has been extended from Norrtälje to Grisslehamn, thanks to all the supportive landowners and funding from the County Administrative Board in the County of Stockholm, the Local Nature Conservation (LONA) initiative, Stockholm County Council, the INTERREG project 'The Archipelago Route' and Norrtälje Municipality.

Find out more at www.roslagsleden.se

Happy hiking!
Mehr anzeigen
Jugendherberge
Entfernung: 948 Meter
Gemütlich und zentral gelegen in Norrtälje, Hauptstadt der Region Roslagen. Ganzjährig geöffnet. Rezeption April – September 7.30-11.00, 17.00-19.00. Übrige Monate nach Vereinbarung.
Hotels
Entfernung: 147 Meter
This wooden hotel in Norrtalje was inspired by the houses owned by 19th century wealthy merchants. The thought was to recreate the character of that time in our hotel. A wealthy coastal town, built and decorated with wood, with places for both small and lar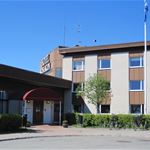 Hotels
Entfernung: 1,6 km
Hotell Roslagen is situated in a green area by the south entrance of Norrtälje with 20 minutes at the most to walk downtown. The hotel consists of 52 rooms in three stories with two elevators.