Jolster clothing and interiors
Adresse: Norrtäljevägen 48, 764 93 Väddö
Karte anzeigen
Adresse: Norrtäljevägen 48, 764 93 Väddö

Jolster clothing and interiors is a charming countryside shop.
Jolster focuses on high quality, classic style fashion and good service in a homely environment. In the shop, you will find women's and men's clothing from selected suppliers such as Saint James, Rittva Falla, Sebago, Gardeur, Mac, Oscar, Dahlin, Seidensticker, Newhouse, Holebrook and Jack Murphy. There is also skin care products, jewelry, interior design, teas, chocolate etc. Also sheepskin and lamb's meat (frozen all year round and fresh in September/October) sourced from the farm.
Mehr anzeigen
Hotels
Entfernung: 23,7 km
This wooden hotel in Norrtalje was inspired by the houses owned by 19th century wealthy merchants. The thought was to recreate the character of that time in our hotel. A wealthy coastal town, built and decorated with wood, with places for both small and lar
Jugendherberge
Entfernung: 24,3 km
Gemütlich und zentral gelegen in Norrtälje, Hauptstadt der Region Roslagen. Ganzjährig geöffnet. Rezeption April – September 7.30-11.00, 17.00-19.00. Übrige Monate nach Vereinbarung.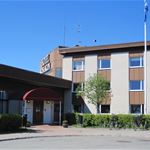 Hotels
Entfernung: 25,2 km
Hotell Roslagen is situated in a green area by the south entrance of Norrtälje with 20 minutes at the most to walk downtown. The hotel consists of 52 rooms in three stories with two elevators.