ICA Kvantum Flygfyren
Adresse: Gustaf Adolfs väg 55, 76123 Norrtälje
Karte anzeigen
Adresse: Gustaf Adolfs väg 55, 76123 Norrtälje

Ordinary day or party day? We have what you need. Stocks are replenished on a daily basis with fresh produce, fruit and vegetables, dairy products and lots of other things to spice up your meal. You will find cheese and charcuterie for a picnic, a cozy night in or the big party.
The land that ICA Kvantum Flygfyren is built on was bought in 1960 by Olle Henriksson. Olle needed space for a wholesale warehouse. At the end of the 1960's the adjacent plot of land is also bought and the idea of opening a department store is emerging. After appeals and changes to the urban development plan it takes until 1975 before the plans are approved and the construction work is started. On the 10th of June 1976 Flygfyren department store opens its doors for the first time. In 1979 Sweden's first salad bar opens at Flygfyren.

Departments include:
Kitchen/homemade food, bakery, fish department, meat and charcuterie, media, checkout and customer service. A wide selection - all under one roof. Today's lunch served in the bistro every day.
Mehr anzeigen
Jugendherberge
Entfernung: 398 Meter
Gemütlich und zentral gelegen in Norrtälje, Hauptstadt der Region Roslagen. Ganzjährig geöffnet. Rezeption April – September 7.30-11.00, 17.00-19.00. Übrige Monate nach Vereinbarung.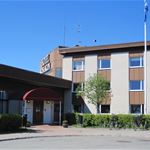 Hotels
Entfernung: 764 Meter
Hotell Roslagen is situated in a green area by the south entrance of Norrtälje with 20 minutes at the most to walk downtown. The hotel consists of 52 rooms in three stories with two elevators.
Hotels
Entfernung: 968 Meter
This wooden hotel in Norrtalje was inspired by the houses owned by 19th century wealthy merchants. The thought was to recreate the character of that time in our hotel. A wealthy coastal town, built and decorated with wood, with places for both small and lar