Wägerths konstsmide – decorative ironwork at Wira bruk
Adresse: Bruksgårdsvägen 10, 184 93 Åkersberga
Karte anzeigen

Adresse: Bruksgårdsvägen 10, 184 93 Åkersberga

In the old Inspector's house at Wira you can see the decorative ironwork being made here today. The building itself dates back to 1793. Next door there is a carriage house with ironworks display and various special exhibitions.
Forges
The forge in use today is located at Finnbergavägen 6 where the blacksmiths PO Davidsson, Jonas Wägerth and Jimmy Kindbladh do their daily work. The shop is tended by Sara Wägerth Elm. Jonas Wägerth is the overall manager. By the lower fall there is one 18th century and one 19th century forge. There is also a more recent forge which is from time to time in use in summer.

The museum
When walking towards the forges you will pass by the alderman's cottage, Åldermansstugan which is now a museum of village life and activities. The museum exhibits various items having been made here throughout the centuries. You can also learn more about the history of Wira. The museum is open for groups from 1 May to 30 September. During summer, from late June to early August, the museum is open for all.

Tingshuset
Wira Bruk Tingshus (the old court house) is situated opposite the Inspector's house. This was the court for the judicial district of Southern Roslagen from the late 18th century until 1904. According to tradition, a card game called Wira was invented when the court was snowbound here during a terrible storm in 1810.

Wira Restaurang, Tingshuset
The restaurant serves hot dishes, sandwiches, pastry and coffee. In- and outdoor seating area.

Guided tours at Wira Bruk
Guiding around the historic village is available from May to September. A guided tour is about and hour and takes you for a walk around the village. The guided tour ends with a visit at the museum and the ironworks shop. Total time: 1,5 hours. Coffee at the restaurant can be booked for your party to finish off the guided tour.
Mehr anzeigen
Guest house
Entfernung: 4,6 km
Bis hierher und nicht weiter sollten die Russen kommen. So dachte man, als nach dem Ersten Weltkrieg das Fort Siarö gebaut wurde. Heute ist es eine eigene Insel für Abenteuer und Entspannung, von welcher man leicht andere Inseln, wie Ängsö, erreichen kann.
Hotels
Entfernung: 19,9 km
Fredriksborg is located in Stockholm's beautiful archipelago, at the far end of northern Värmdö with an unbeatable view of the glittering Solöfjärden. The history and environment is something out of the ordinary. In 1724 the work began to build the fortress. With its strategic position, this is where Stockholm was defended against the enemy. Almost 300 years later, it is time for Fredriksborg to show a more welcoming side to its visitors.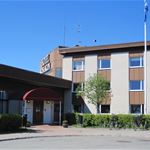 Hotels
Entfernung: 21 km
Hotell Roslagen is situated in a green area by the south entrance of Norrtälje with 20 minutes at the most to walk downtown. The hotel consists of 52 rooms in three stories with two elevators.