Båt & Byggnadsvård i Roslagen
Adresse: Gamla Väsbyvägen 5 Norrtälje
Karte anzeigen
Adresse: Gamla Väsbyvägen 5 Norrtälje

Shop offering an attractive selection of high-quality products for boat and building maintenance for professionals as well as private people. Also providing advice on architectural maintenance as well as maintenance of furniture and wooden boats.
Båt & Byggnadsvård also arranges themed lectures and courses on boat and architectural maintenance for professionals as well as private people. They have their own line of artisan quality products. Båt & Byggnadsvård is a meeting place for customers, craftsmen and other with this interest in common, a place that will hopefully lead to meaningful meetings and fruitful discussions.
Mehr anzeigen
Hotels
Entfernung: 5,6 km
This wooden hotel in Norrtalje was inspired by the houses owned by 19th century wealthy merchants. The thought was to recreate the character of that time in our hotel. A wealthy coastal town, built and decorated with wood, with places for both small and lar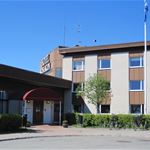 Hotels
Entfernung: 6,1 km
Hotell Roslagen is situated in a green area by the south entrance of Norrtälje with 20 minutes at the most to walk downtown. The hotel consists of 52 rooms in three stories with two elevators.
Jugendherberge
Entfernung: 6,3 km
Gemütlich und zentral gelegen in Norrtälje, Hauptstadt der Region Roslagen. Ganzjährig geöffnet. Rezeption April – September 7.30-11.00, 17.00-19.00. Übrige Monate nach Vereinbarung.