Båt & Byggnadsvård i Roslagen
Adresse: Gamla Väsbyvägen 5 Norrtälje
Karte anzeigen
Adresse: Gamla Väsbyvägen 5 Norrtälje

Shop offering an attractive selection of high-quality products for boat and building maintenance for professionals as well as private people. Also providing advice on architectural maintenance as well as maintenance of furniture and wooden boats.
Båt & Byggnadsvård also arranges themed lectures and courses on boat and architectural maintenance for professionals as well as private people. They have their own line of artisan quality products. Båt & Byggnadsvård is a meeting place for customers, craftsmen and other with this interest in common, a place that will hopefully lead to meaningful meetings and fruitful discussions.
Mehr anzeigen
Hütte
Entfernung: 2 km
Fjällen is a little area with cabins about 10 km east of Norrtälje towards Kapellskär. The house is 100 m2 and is of a good standard, built for all year round stays.
Hotels
Entfernung: 5,6 km
This wooden hotel in Norrtalje was inspired by the houses owned by 19th century wealthy merchants. The thought was to recreate the character of that time in our hotel. A wealthy coastal town, built and decorated with wood, with places for both small and lar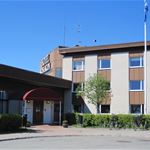 Hotels
Entfernung: 6,1 km
Hotell Roslagen is situated in a green area by the south entrance of Norrtälje with 20 minutes at the most to walk downtown. The hotel consists of 52 rooms in three stories with two elevators.