Edblad, Norrtälje
Adresse: Tullportsgatan 20, 761 30 Norrtälje
Karte anzeigen
Adresse: Tullportsgatan 20, 761 30 Norrtälje

Lifestyle shop where you will find Edblad's signature jewelry in stainless steel, clothes collections and interior design items.
Edblad is a Swedish design company, founded with a vision to pay tribute to today's strong woman daring to be herself and expressing her personality. Edblad was founded at Singö in the north of Roslagen in 2006 by the designers Hans and Cathrine Edblad upon their dream to create beautiful products available to all. The nature of the Swedish archipelago became the pivot for stylish design and an interesting new material.
Mehr anzeigen
Hotels
Entfernung: 498 Meter
This wooden hotel in Norrtalje was inspired by the houses owned by 19th century wealthy merchants. The thought was to recreate the character of that time in our hotel. A wealthy coastal town, built and decorated with wood, with places for both small and lar
Jugendherberge
Entfernung: 616 Meter
Gemütlich und zentral gelegen in Norrtälje, Hauptstadt der Region Roslagen. Ganzjährig geöffnet. Rezeption April – September 7.30-11.00, 17.00-19.00. Übrige Monate nach Vereinbarung.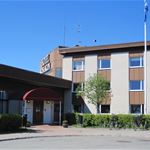 Hotels
Entfernung: 1,4 km
Hotell Roslagen is situated in a green area by the south entrance of Norrtälje with 20 minutes at the most to walk downtown. The hotel consists of 52 rooms in three stories with two elevators.