Den Gyllene Räven
Adresse: 761 33 Norrtälje Hamnpromenaden 1
Karte anzeigen
Adresse: 761 33 Norrtälje Hamnpromenaden 1

Food, drinks and tall tales in a modern setting. Den Gyllene räven is not only a restaurant, but also the main character in the tales being told.
The restaurant will tempt you with everything from oysters au gratin to Mac and cheese from homemade veal sausage, grated parmesan and truffle.
Mehr anzeigen
Hotels
Entfernung: 108 Meter
This wooden hotel in Norrtalje was inspired by the houses owned by 19th century wealthy merchants. The thought was to recreate the character of that time in our hotel. A wealthy coastal town, built and decorated with wood, with places for both small and lar
Jugendherberge
Entfernung: 1,2 km
Gemütlich und zentral gelegen in Norrtälje, Hauptstadt der Region Roslagen. Ganzjährig geöffnet. Rezeption April – September 7.30-11.00, 17.00-19.00. Übrige Monate nach Vereinbarung.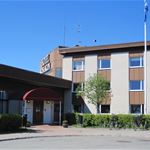 Hotels
Entfernung: 1,8 km
Hotell Roslagen is situated in a green area by the south entrance of Norrtälje with 20 minutes at the most to walk downtown. The hotel consists of 52 rooms in three stories with two elevators.