Adresse: Danskes gränd 2 Norrtälje

Roslagens Sparbank is a proper local bank which can only be found in Norrtälje. All decisions are taken here and 90 percent of the employees live here, which mean they know the local market and walk the same streets as you do.
You will find several branches of Roslagens Sparbank throughout the municipality, which will make it easy for you to pop in when you want to want personal banking service.

The fact that Roslagens Sparbank is a local savings bank means their proceeds goes into developing the area instead of being distributed to shareholdes, as there are no shareholders. Since year 2000, Roslagens Sparbank has set aside about 130 million SEK to the benefit of the society.

Your bank in Norrtälje
Roslagens Sparbank, is the only bank with for branches within the municipality of Norrtälje.
You will find them in Norrtälje, Hallstavik, Älmsta and Rimbo. They can of course also be reached by internet and telephone. The most generous opening hours is the central Norrtälje branch: Monday to Thursday 10-18 and Friday 10-16.

Roslagen's largest corporate bank
Roslagens Sparbank aims to be the best partner for you and your business. The closeness and simplicity of a small bank combined with the resources of a large bank are important factors for local businesses. For more information: https://www.roslagenssparbank.se/foretag/

Specialist advice Roslagens Sparbank provide specialist advice on personal finance, pensions, insurance, investment and shares as well as legal advisors for personal and business consulting. Contact Roslagens Sparbank whatever your stage in life.
Mehr anzeigen
Hotels
Entfernung: 271 Meter
This wooden hotel in Norrtalje was inspired by the houses owned by 19th century wealthy merchants. The thought was to recreate the character of that time in our hotel. A wealthy coastal town, built and decorated with wood, with places for both small and lar
Jugendherberge
Entfernung: 889 Meter
Gemütlich und zentral gelegen in Norrtälje, Hauptstadt der Region Roslagen. Ganzjährig geöffnet. Rezeption April – September 7.30-11.00, 17.00-19.00. Übrige Monate nach Vereinbarung.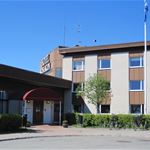 Hotels
Entfernung: 1,6 km
Hotell Roslagen is situated in a green area by the south entrance of Norrtälje with 20 minutes at the most to walk downtown. The hotel consists of 52 rooms in three stories with two elevators.