Dannemora mine
Address: 74832 Vallonbruken i Östhammars kommun
Show map
Address: 74832 Vallonbruken i Östhammars kommun

Take a stroll along the open air shafts; Storrymningen is over 200 meters long. During summer there are activities that you can book in advance. There are also a mineral museum.
Here you can see the house where Sweden´s first steam engine, Mårten Triewalds so-called "fire-and air machine" was kept. It was used to pump water from the shafts of the mine.

The mines are over 500 years old and remnants of medieval blast furnace are found here. Large scale iron ore mining began when King Gustav Vasa contracted German expertise in the 16th century. By the 17th century many ironworks were run by people form Walloonia (todays Belgium). The most prominent was the merchant Lois De Geer. The pure iron ore from Dannemora supported more than 30 ironworks with raw material. It had very high ranking on the international market, both in quality and price. It held its place until the end of the 19th century. The mines closed in 1992 when the profit became too low.

In the old days the mines were a popular attraction for painters, writers and royalty from many countries. Even Carl von Linné visited the mine.

Dannemora Mineral AB, a mining and exploration company, that now have the mine up and running after having been closed for nearly 20 years. In addition, the Company intends to engage in exploration for base and precious metals in a number of areas in Uppland, where the probability of finding new mineable deposits is considered good.
Show more
Hotel
Distance: 2.6 km
Gammel Tammen has rooms for all occasions. The manor house is set in tranquil surroundings and all rooms are decorated in a contemporary style.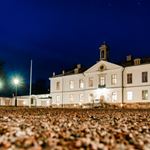 Hotel
Distance: 12.8 km
Enclosed by majestic forests, sparkling lakes and endless meadows you will find Gimo Herrgård - Sweden's first gustavian manor house. The four star hotel features 86 individually designed rooms and suites, the Sjöstugan SPA offering panoramic views of Lake Gimo, and the manor restaurant serving exquisite meals made from local ingredients from Roslagen and surrounding areas. Bright meeting rooms and beautiful 18th century banquet halls offer ample
Hotel
Distance: 24.6 km
Welcome to Johanssons Gårdshotell in Roslagen, a small hotell in a unique courtyard setting, centrally situated in Östhammar and near the sea. The hotel consists of 14 rooms.