Ramhälls Gruvor
Address: Ramhäll 106 Ramhäll
Show map
Address: Ramhäll 106 Ramhäll

In the 1700s mining of iron ore began in this area.The mines were called the Hammarinsgruvorna, in the beginning they were operated on a very small scale. In 1832 work began on a larger scale. The owner of the mine at this time was Kilafors works, and in 1870 a steam engine came into use. In the late 1800s half of the mine was sold to Ljusne-Woxna AB and to Dannemora mines Interest Group.
In 1942 Stora Kopparberg purchased the mine, and began with the construction of mining cabin, workshop, offices, and drill-tank. Because of the Second World War the demand for iron ore was immense. The company also began the planning for the modern mines.

In the late 1970s the mines closed down. Underground galleries have been flooded and the buildings are now empty.

Guided tours
Guided tours by arrangement all year round. Please call +46 174-141 10 or e-mail to info@ramhall.se.

Ramhäll Rural Heritage Museum
In a former school house from the 1880s, which still has a preserved schoolroom from the 18th century. Please call +46 174-141 10 or e-mail to info@ramhall.se.
Show more
Hotel
Distance: 11 km
Gammel Tammen has rooms for all occasions. The manor house is set in tranquil surroundings and all rooms are decorated in a contemporary style.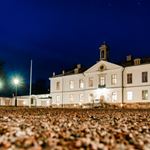 Hotel
Distance: 15.7 km
Enclosed by majestic forests, sparkling lakes and endless meadows you will find Gimo Herrgård - Sweden's first gustavian manor house. The four star hotel features 86 individually designed rooms and suites, the Sjöstugan SPA offering panoramic views of Lake Gimo, and the manor restaurant serving exquisite meals made from local ingredients from Roslagen and surrounding areas. Bright meeting rooms and beautiful 18th century banquet halls offer ample
Hotel
Distance: 29.9 km
Welcome to Johanssons Gårdshotell in Roslagen, a small hotell in a unique courtyard setting, centrally situated in Östhammar and near the sea. The hotel consists of 14 rooms.