Viking activities on Vikingabyn Storholmen
Viking activities for children and adults!
Try crafts, see performances, listen to fairy tales and try Viking games.
In the Viking village, there are reconstructed buildings and environments that create an authentic atmosphere.
See and do in the Viking village

During the summer you can watch and learn from Vikings when they do their handicrafts in the village. You meet blacksmiths, shepherds, spinners, and other craftsmen. If you want to try, they teach what they can. Try, among other things, forging, wool crafts, or bake your own flatbread over the fire or in the ashes. The rune master teaches the secrets of the runes, the signs that adorn countless rune stones in Uppland. Hövdingen and Husfrun tell you everything you want to know about the Vikings' lifes .

At special times of the day, a signal is heard over the village. This is the signal that some special activity is starting in the village. It can be a show with Viking-era games, song and music, a lecture or the storyteller tells a story.

The environment and the surroundings
In the Viking village there are reconstructed buildings and environments that create atmosphere on the site and the beautiful lake Erken surrounds the Viking village.
Just a stone's throw away there is also a nature reserve with 166 tombs from the Viking Age.

NOTE! We adapt the activities on an ongoing basis in accordance with current Corona restrictions. Therefore, you will probably need to pre-book a visit via the tourist office, Visit Roslagen / online here on the website.
Street address 1
Svanberga, Varjagvägen 1
Phone number (booking)
46 767650660
Contact person email
info@storholmen.org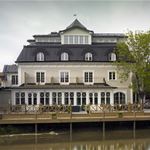 Hotel
Distance: 9.2 km
This wooden hotel in Norrtalje was inspired by the houses owned by 19th century wealthy merchants. The thought was to recreate the character of that time in our hotel. A wealthy coastal town, built and decorated with wood, with places for both small and lar
Hotel
Distance: 10.2 km
Hotell Roslagen is situated in a green area by the south entrance of Norrtälje with 20 minutes at the most to walk downtown. The hotel consists of 52 rooms in three stories with two elevators.
Hostel
Distance: 9.3 km
Homely and centrally located in the capital of Roslagen, Norrtälje. Open all year round. Reception April-September 7.30-11.00, 17.00-19.00. In other months, by prior arrangement.