Siaröfortet, STF Hostel
Address

: Kyrkogårdsön Ångbåtsbrygga: Siaröfortet Närmaste fastlandsbrygga: Östanå färjeläge, Stockholms skärgård Avgångsbrygga i Sthlm: Strömkajen (framför Grand Hôtel)
show map
Location: Österåker
Hostel | The Russians will get no further than this! That was the thinking when Siaröfortet was built after the First World War. These days the fort is its own island offering wonderful experiences and relaxation.
The hostel lies on magical Kyrkogårdsö (Church Garden Island), in the middle of the channel between Vaxholm and Furusund. It is a paradise for enthusiastic and adventure-seeking adults and children.

The hostel is located in carefully renovated barracks dating from 1916, and has a fully equipped and modern kitchen. Guests can swim, fish and rent a boat or enjoy the wood heated sauna by the water.

A guided tour is arranged daily in and around the old fort. For guests staying several nights, the hostel is the perfect starting point for day trips to Ängsö national park and the islands of Saltkråkan, Fejan, Arholma, Svartlöga and Rödlöga.
Contact information
Street address 1

City (address)

Stockholms skärgård Avgångsbrygga i Sthlm: Strömkajen (framför Grand Hôtel)

Phone number

Phone number (booking)
Compare "Siaröfortet, STF Hostel" with similar alternatives
Homely and centrally located in the capital of Roslagen, Norrtälje. Open all year round. Reception April-September 7.30-11.00, 17.00-19.00. In other months, by prior arrangement.
Welcome to Waxholms Hotell, where the Stockholm archipelago meets smalltown charm. Enjoy colourful sunrises and romantic starry nights. Breathe in the fresh air and scents of the archipelago and relax as the boats sail gently by.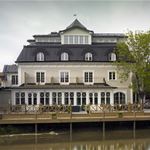 The hotel is centrally located in Norrtälje city nearby the harbour. Åtellet has 22 rooms, 18 of which are double rooms and 4 of which are single rooms.