Sea Kayak rental - Kajak and Uteliv
Adresse: Gräddö Brygga , 76015 Gräddö
Karte anzeigen
Adresse: Gräddö Brygga , 76015 Gräddö

Experience your dream paddle, rent a sea kayak from us, the perfect way to relax and enjoy nature and tranquility of the Stockholm Archipelgo.
Kajak och Uteliv runs a high-quality sea kayak rental in the Stockholm archipelago. For your own safety we recommend that you paddle together with some one and that you have participated in a kayakcourse, guided tour or have a Euro Paddle Pass. If you do not meet our requirements feel free to take one of your selfguided tours. The rental base is beautifully situated right at the beginning of Norrtäljeviken. There are both cafes and a grocery store nearby.
Mehr anzeigen
Buchen
Wählen Sie ein Startdatum:
Jugendherberge
Entfernung: 5 km
Kapellskär ist wegen der Fähre nach Åland wahrscheinlich vor allem als Pforte zum Osten bekannt. Aber hier im Grenzgebiet zwischen Meer und Festland befindet sich auch das Naturreservat Riddersholm, eine phantastische Gegend mit Wiesen und Weiden.
Jugendherberge
Entfernung: 19,3 km
Gemütlich und zentral gelegen in Norrtälje, Hauptstadt der Region Roslagen. Ganzjährig geöffnet. Rezeption April – September 7.30-11.00, 17.00-19.00. Übrige Monate nach Vereinbarung.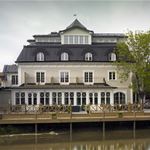 Hotels
Entfernung: 18,2 km
The hotel is centrally located in Norrtälje city nearby the harbour. Åtellet has 22 rooms, 18 of which are double rooms and 4 of which are single rooms.