Rådmansö church
Adresse: Kungsgårdsvägen 22 , 761 94 Rådmansö kyrka
Karte anzeigen
Adresse: Kungsgårdsvägen 22 , 761 94 Rådmansö kyrka

Rådmansö church is a typical KarlJohan-church and was built 1820. This Church replaced the older timberchurch but the alter is still the same and it´s probebly a war trophy from the 30-year war i Poland. The old organ is also a war trophy and was donated to a museum (Nordiska muséet) in 1883. The big cross in the graveyard is a memory for those seven young people who died in a snowstorm on their way home from a worship in Sundskär.
Rådmansö Church was renovated during 2015.
Mehr anzeigen
Jugendherberge
Entfernung: 5,4 km
Kapellskär ist wegen der Fähre nach Åland wahrscheinlich vor allem als Pforte zum Osten bekannt. Aber hier im Grenzgebiet zwischen Meer und Festland befindet sich auch das Naturreservat Riddersholm, eine phantastische Gegend mit Wiesen und Weiden.
Hotels
Entfernung: 10,3 km
Furusunds värdshus is a restaurant, hotel and conference facility that offers a warm and cozy environment. The inn is situated 30m from Furusundsleden with a breathtaking view.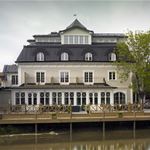 Hotels
Entfernung: 14 km
This wooden hotel in Norrtalje was inspired by the houses owned by 19th century wealthy merchants. The thought was to recreate the character of that time in our hotel. A wealthy coastal town, built and decorated with wood, with places for both small and lar