Pythagoras Industrial Museum
Adresse: Verkstadsgatan 6 Norrtälje
Karte anzeigen
Adresse: Verkstadsgatan 6 Norrtälje

Pythagoras Industrial Museum, Norrtälje
Pythagoras is a hot-bulb factory founded in 1898. In an environment where you can still smell the foundry dust and engine oil you can get the feeling of what it was like to live and work in a factory that, with many others, built Sweden as an industrial nation.
Here is food for all the senses. During a guided tour you can experience a hot bulb engine running and listen to the lathes and mills as the are driven by transmission belts up in the ceiling.

You can also walk around the museum in your own pace and listen to an audioguide.

Our museum is not only for adults. We have a children's area where children can learn about inventions and mechanical principles through play.

There are regular guided tours in summer time and at any other time of the year pre-booked guided tours can be arranged.
Mehr anzeigen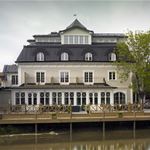 Hotels
Entfernung: 543 Meter
This wooden hotel in Norrtalje was inspired by the houses owned by 19th century wealthy merchants. The thought was to recreate the character of that time in our hotel. A wealthy coastal town, built and decorated with wood, with places for both small and lar
Jugendherberge
Entfernung: 585 Meter
Gemütlich und zentral gelegen in Norrtälje, Hauptstadt der Region Roslagen. Ganzjährig geöffnet. Rezeption April – September 7.30-11.00, 17.00-19.00. Übrige Monate nach Vereinbarung.
Hotels
Entfernung: 1,2 km
Hotell Roslagen is situated in a green area by the south entrance of Norrtälje with 20 minutes at the most to walk downtown. The hotel consists of 52 rooms in three stories with two elevators.